Many new improvements/updates to the system.  Amazing part was these ideas came to us this morning and already built them into the system.
List Stats feature added under view list gives an overview of the list. List stats shows all the totals for all the status codes, includes top domains in the list and their percentage of the list along with the active status codes. Also on the list stats is the last five campaigns that have been sent to the list this allows you to quickly see trends at a glance for the list.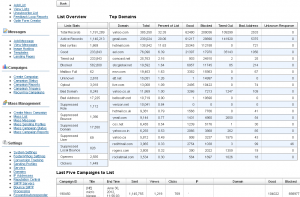 New searching of date time ranges for the Click Time and View Time on view list.  For example you can now search list for Click Time greater 07/04/2012 and the system will return any new clicks past July 4, 2012.
New setting under system setting Show Country Flags on view list. This adds an image the country flag of the IP that clicked or viewed.
Added quick send email links on click/view logs. Comes in handy if you want to contact someone quickly who clicked or opened a campaign.
In the leads/CRM module there is now a manage labels area where you can edit/delete labels for leads.