It appears that Google AdWords is testing out new ad formats on their search engine that featured a newsletter signup form.

The ad also includes a privacy notice. It does not appear the notice can be customized at this time. For now,  it just is hover box that details the email address will be passed to the advertiser.
When you submit this form, your email address will be sent to Google which is then passed to the advertiser and verified that the data is passed to Google using Wireshark.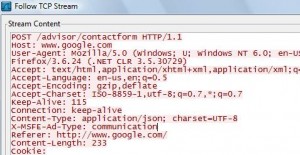 Google sees the email address the user enters and passes it back to the advertiser. One area of concern in my testing so far is that I have not seen a confirmation email to confirm my subscription. Hopefully Google will add that feature. Otherwise, the system can be pr0ne to abuse.
After submitting, you are not redirected anywhere. The text box simply disappears and says that you have subscribed to the newsletter.

Impact
This will be a new exciting way to build an optin list for email marketing.
Depending on the pricing model which I do not know at the moment if is the same as click price or if they have different cpa structure setup for newsletter signups.
Other unknowns is what kind of system they have to pass the data back to the advertiser. Do they offer an api to download this information? Is the information posted back to an advertisers sites? Or is it just a csv document that can be downloaded. Time will tell and I am interested in hearing any AdWords publishers that have access to this feature.
Hopefully this feature will be rolled out to all AdWords advertisers shortly. If you have a large AdWords you can try contact your account manager and see if you can get invited to the beta.